I'm not sure why it's taken me until late October to put something about this onto my personal blog, given all the work I've been doing over at The Progress Train since late August.
For those who aren't aware, Avanti West Coast, the operator of long-distance services on the West Coast Mainline, unveiled a brand new 'Trainbow' at the end of August, adorning the side of Pendolino 390 119.
The train is a vibrant and positive addition to the railway scene, and also encompasses a number of exciting firsts. It's the longest Trainbow – at over 265m long – to ever run on the tracks of Britain, whilst it's also the first to incorporate the colours of the LGBTQ+ Progress flag, a new, more inclusive flag with stripes to represent BIPOC and trans folk within the LGBTQ+ community. Accompanying the launch of the train was a competition to give the train a name – and that's where I stepped in.
---
Those who have known me for a while will know that I'm not particularly a fan of the Trainbow concept. They've been creeping through the railway industry for almost half a decade now, starting with the Docklands Light Railway in 2015 and stretching to nearly all of the major Train Operating Companies since. Whilst they're a nice splash of colour to brighten up what can sometimes be a rather dreary network, they're also an easy way out. Like most instances of 'corporate Pridewashing', these trains often haven't been accompanied with any actual change or support for the LGBTQ+ community – they've been a sign of tokenism, making people feel warm and fuzzy that there is some sort of visibility despite still having a catalogue of problems below the surface; exclusionary web-forms, archaic processes and an alarming number of fossilised, front line staff.
Avanti West Coast's efforts are a refreshing change, and a sign that things are finally changing for the better. There has been a growing discourse to use a more representative and inclusive design in LGBTQ+ imagery in recent years, with Transport for London (again) leading the way with three different designs on their Pride Roundels – the 'Philadelphia' Pride flag with the standard six-stripe rainbow plus black and brown stripes; the Trans Pride flag with blue, pink and white stripes; and the Bisexual Pride flag with purple, pink and blue stripes. The latest design from Avanti, as well as the accompanying #LiveProud campaign on their website, has now levelled up the rest of the industry – particularly against the backdrop of Covid-19 – and it is hoped that other operators will follow suit in 2021 and beyond.
---
Following the launch of Avanti's train naming competition, social media lit up with thoughts on the Pendolino. Many were positive, but predictably a number also wheeled out the usual cliches and stereotypes that are dominating the anti-LGBTQ+ discourse in the UK; "I'm okay with the gays but why do they have to shove it in our faces?". Of course, this only serves to highlight further exactly why LGBTQ+ visibility is important – and why it needs to be backed up with the support and education.
More positively, a whole variety of different names also started to spread across social media, including those of famous LGBTQ+ figures, popular terms and phrases within the LGBTQ+ community and, predictably, the ever-present 'Trainy McTrainface' (spoiler: that joke's a bit old now). In particular, support to name the train Alan Turing (despite him already having a GWR train so-named) surged within the first few hours and, although admirable, this fails to capture the full depth and meaning of what the first Progress train should be about. This represents a once in a generation opportunity to get things right and to refocus Trainbows and their ilk on the meaningful change – framing the train in the light of any singular person just won't do.
A few frantic phone calls and some furious typing later and we had the bare bones for what became The Progress Train. Supplementing the website we also had a series of short, vox-pop videos of people sharing their reasons for backing the campaign. The message was one of unity; one that made it clear that whilst Progress is in part a celebration, it is also acknowledging that there is still a lot further to go achieve true equality amongst all members of the LGBTQ+ community. It's also a name that draws in allies and starts conversations; whilst it is not a train for allies, we are not going to get to the finish line without their support, and it is important that people feel empowered to step up and challenge toxic, archaic views even if they aren't personally affected by them.
Despite this, the campaign soon drew criticism: "it's a pre-planned fix, there's no way you can put all of this together so quickly!", they cried. Sorry huns… I can, and I did. Whilst I had been tipped off that a Pride train was appearing, I had no idea of the naming competition, nor the exact dates involved in the unveiling. Everything was, therefore, pulled together after the announcement, and I'm extremely grateful to friends for supporting and helping me out with getting things together so quickly.
From the start, I've been clear that regardless of the chosen name, it had to be something that came back to the core values of inclusivity and equality for all, as well as linking in with Avanti's #LiveProud campaign. I freely admit that I put very little thought into the actual name Progress: it was never about the name. And, especially with the aforementioned criticism, I also made it clear that I was more than happy to support any other public name or campaign that extolled those same values.
Fast forward to October (via an article about The Progress Train in Rail magazine), and the stage was set for the big reveal. It was due to happen on 'National Coming Out Day', 11 October, but as a digital-only affair due to the ongoing Covid-19 restrictions. And that, it seems, is where it's all started going a bit wrong.
There was always going be one winner; that was clear from the terms and conditions of Avanti's competition. Regardless of the name chosen, one individual would be selected to have the 'honour' of naming the train. Naively, I'd hoped that this might be quietly dropped (again, regardless of the winning name) given the message of The Progress Train campaign and how receptive Avanti had been towards it – but it was always going to happen. This isn't, of course, a particularly huge problem: it's the chance to create a lasting impression on the railway for one individual, as well as a chance to rightly showcase an LGBTQ+ person. Visibility has a huge impact, and any winner could be the role model that means that someone else can live comfortably and openly with their own identity.
What this doesn't mean is that all of your communications become about the winner. All of them. Which then get lapped up by various external press outlets and centre the entire train around that individual, or their identity.
Yes folks, by naming a train Progress we have in fact managed to still centre it around one particular identity – in this case bisexuality – despite the core campaign being all about inclusivity for everyone. Whether intentional or not, by not promoting those core values – values expressed on Avanti's own #LiveProud page – within their press release, we have ended up with exactly the same outcome as we would had the train been named Alan Turing. None of the press photos show the name plate on its own, or even on the train. The narrative has become "Person wins competition", rather than "Inclusive train for all". Given the increasing attacks against the LGBTQ+ community world wide, this only furthers some of the rhetoric being spouted when the train first launched, as well completely ignoring the whole meaning of the Progress flag in the first place.
---
Of course, it didn't have to be like this. Given the huge number of entries to the competition (over 1,500 in total, hundreds of which were for Progress), Avanti had a great opportunity to showcase numerous stakeholders from across the country, creating a hugely memorable, poignant and historic moment to unveil the name of the train. As we saw with The Progress Train's voxpops, the vibrant livery has drawn together folks from all walks of life, and the initial buzz created around the train was like nothing seen before of this nature. Avanti's PR team have noted this themselves, with a "decision…made to use Avanti West Coast staff at the heart of the campaign to show the business's commitment to its LGBTQ+ people and the wider community", rather than celebrity endorsement. The train's launch at Euston, and the resulting press coverage, should rightly be celebrated; why not build on this by inviting some of the "hundreds [of entries] suggesting the name Progress" to be involved in the unveiling – either through sharing their own stories digitally or with a huge, Pride-esque, railway party (clearly not something that can happen right now, but it isn't too late to fix this, Avanti…).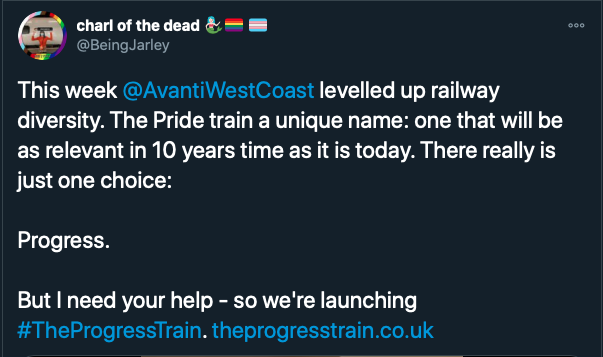 Indeed, Avanti continue to say that their efforts with the train "resulted in a significant positive impact on the LGBTQ+ community with a third-party campaign to name the train "Progress", indicating that the community supports our initiative with the Pride Train", before then quoting one of my own tweets announcing our 'The Progress Train' campaign. Given how the train continues to split opinion across the LGBTQ+ community (of which, crucially, there are also many sub-communities), I'm not sure this is a take that can be particularly measured, and indeed given my own reservations of Trainbows I think this is a very bold statement to make. It's impossible to measure the "significant positive impact" made, particularly where the only metric is 'coverage'. Celebrating a Piers Morgan-led "Twitter spat", one which caused a lot of pain and abuse to be targeted at LGBTQ+ people who defended the train, is also in particularly poor taste.
In many respects, this coverage – especially that which makes mention of "a third-party campaign" – only further distresses the outcome. For one, Avanti were clearly aware of this campaign (confirmed, indeed, by their social desk reaching out to me) and the message and meaning of Progress (i.e. that it is for everyone and not one identity); for two, that they are measuring the success of their own campaign – and extolling how low budget it was – by someone else doing additional work and support. It is notable that they will align themselves closely in an industry press magazine, but then go to great lengths to make as small a mention as possible of the online campaign in their press releases. That's their prerogative, of course – and if I was on their press team I would probably do the same thing – but the double standards are apparent.
Brief mention should also be made too of calling this "the UK's first all LGBTQ+ crew" – this is, unfortunately, not something that can be verified. Indeed, in much the same way that LNER claimed to run the first train with an all-female crew back in March, statements like this are tokenism at its finest. Quite simply, we have no way of knowing whether this has happened before or not; for the very same reasons why we need Progress, there are still a huge amount of people who aren't able to embrace their identities publicly. By calling this "the first all LGBTQ+ crew" we are forgetting those who have not enjoyed the same freedoms as we do today, with the implication that their struggles do not matter. Furthermore, this line has also been interpreted by some media outlets to mean that the train is always staffed by LGBTQ+ individuals. This presents two problems: firstly, that it isn't; secondly, that this is information that could very easily be used by those less-approving of LGBTQ+ folk to target abuse at staff on the train – regardless of whether they are LGBTQ+ or not. Things like Pride already gather enough negativity as it is – we don't need to give bigots a reason to cause a problem.
---
For the avoidance of doubt: none of this is aimed at the winner. I've had some great exchanges with them in the wake of the campaign, and it's clear that their own reasons for supporting Progress are very much in line with my initial idea: a train for everyone. And, to avoid the other predictable idea too, this isn't jealousy. I made no secret that had my entry (if I'd even entered…!) won, I would be refusing any and all press comment on a personal level – because this isn't about individual identities. It never was, and it never will be. That Avanti's press team have failed to grasp this particular nuance, and have lost control of the press interest around the train, draws their whole #LiveProud movement into question. Was this just a corporate Pridewash after all…?
So where does this leave The Progress Train? To be truthful, right now I don't know. Whilst there might have been success in naming the train, it was never about the name. That that message doesn't seem to have actually made it through either means that we got it wrong, or people don't actually want to change things. The whole idea was always as an ongoing project, to have difficult discussions like this and to share best practice and thoughts and ideas on how we can continue to move forwards. Certainly the individuals at its core have all displayed these values – and so much more – and I thank all of them tremendously. I should also make it clear that everything in this post is my own personal opinion, thus why it appears here and not anywhere else. Given my own ongoing questions about my own future within the rail industry, it's safe to say that this entire campaign hasn't made me want to stay – if anything, it's only confirmed that things probably aren't going to change. I hope I'm wrong – but, as Progress has shown me, that might not be the case.
Progress? I don't know her.
(PS: It's not "the UK's first fully wrapped Pride Train", Avanti; the DLR beat you to that. Facts.)