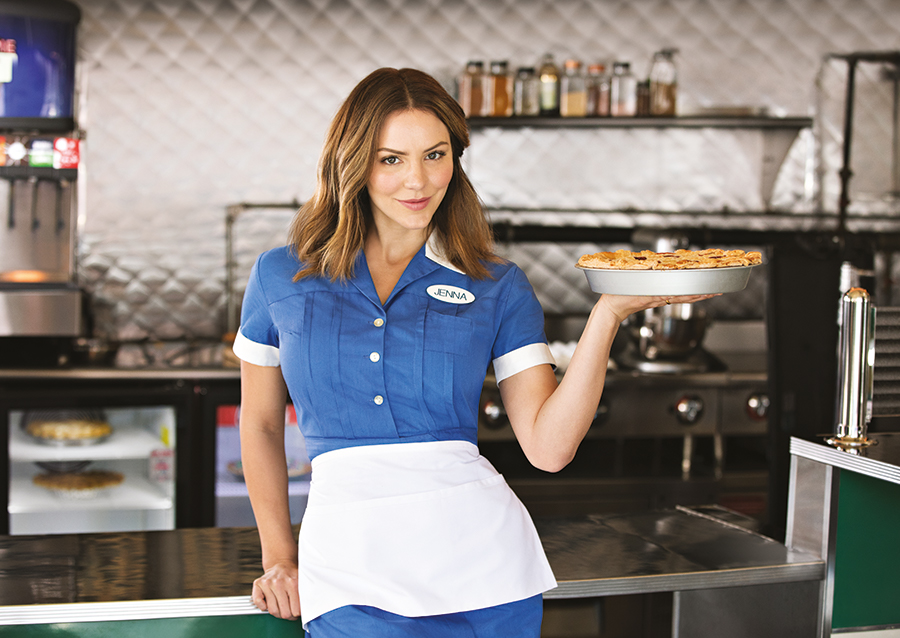 REVIEW: 'Waitress'


Adelphi Theatre - 20/02/2019 - ⭐️⭐️⭐️⭐️⭐️
Hit Broadway musical 'Waitress' has landed in London's West End. Is it the perfect recipe, or simply a Bad Idea?
Broadway's hit sensation Waitress has arrived in London's West End, cooking up a spectacular treat for theatregoers new and old. With an all-female creative team—a West End first—the show has been making headlines since its Broadway debut in 2015 and is set to smash further records with its transfer.
Adapted from the 2008 film of the same name, the show follows the life of Jenna Hunterson (Katharine McPhee), an American diner waitress with a penchant for making pies who is trapped in an abusive relationship with childhood sweetheart Earl (Peter Hannah). An unplanned pregnancy thrusts Jenna into an affair with her gynaecologist Dr Jim Pomatter (David Hunter), inspiring new pie creations and causing Jenna to continue to attract the attention of diner owner Joe (Shaun Prendergast). A local pie-baking competition with a significant cash prize looks to provide Jenna with her way out to a new life, but Earl's controlling ways lead Jenna to lose the money she'd stashed away to enter, spending it instead on a crib for the baby. Down on her luck, she soon goes into labour, uncertain of what the future holds. Warning: spoilers ahead!
I'm no stranger to the Adelphi Theatre; indeed, some of my favourite shows have been staged there in recent years, including Kinky Boots, Made in Dagenham and Paint Never Dries Love Never Dies. It's always a pleasant experience, with decent legroom (a big deal when you're 6'3″ and often wear heels…) and a good smattering of both toilet and beverage facilities! Despite being one of London's largest theatres, the Adelphi is still able to feel intimate: crucially important for a tale like Waitress. The foyer also features a photo opportunity with a mocked-up American Diner, which was very popular with theatregoers during the interval.
I try to avoid listening to the soundtrack until I've seen a new show—it keeps the plot a secret and allows me to get lost in the moment. All too often I end up memorising entire cast albums word-for-word, which when you've never seen the show before can really detract from the magic of theatre! It's a mistake I've made a few times in the past and, for Waitress, I succeeded… well, nearly. One song managed to slip through the net and I fell in love with it (without realising where it originated from!), so I was super happy when the opening notes started up and I could see it in the context for which it was written.
Indeed, Sara Bareille's score is incredibly strong and varied, giving life to the show but keeping a steady pace. This isn't an all-singing, all-dancing, high-action production; it's careful, considered and intimate, really helping the audience to get to know Jenna, her waitress friends Becky (Marisha Wallace) and Dawn (Laura Baldwin), and the people she meets along the way, including diner owner Joe, husband Earl and gynaecologist Jim. Just like a perfect pie, Waitress has the key ingredients to ensure success. A lively opening quickly introduces us to the lead characters, before getting into the nitty-gritty of the show. What's Inside/Opening Up entices us in, building up the suspense for what's to come. A vibrant set provides a well thought-out space for the ensemble to work well into the production, with slick choreography carrying through all of the songs.
Waitress isn't short of comedic moments either: early comedy number The Negative presents a very real and relatable view on unplanned pregnancy, with Jenna and friends all hoping that her pregnancy test is negative, rather than the often-shown view of hoping for a positive result. The chemistry between all three women can easily be seen—and this carries through too to Jenna's relationship with Jim. It's intimate, it's dynamic: the audience becomes gripped by and invested in the two characters—will Jenna leave her husband, and Jim his wife?
Jenna's 'thoughts' are a recurring motif throughout the show: sequences that take Jenna out of the main action to reminisce about her past, or to speculate about the future she hopes to have for her baby. Creative use of the available stage space, as well as subtle lighting tweaks and the ensemble, help to make these moments intriguing, and bring us closer to Jenna and the situations she finds herself in.
In contrast to the upbeat, hopeful pairing of Jenna and Jim, Jenna and Earl's duet You Will Still Be Mine is sad and mellow, yet strangely also upbeat. Bareille's melodies complement yet contrast with each other, with Earl being positive—if almost controlling—about their marriage, while Jenna, more withdrawn and distant, looks for a way out, with none of the positivity seen in her interactions with Jim.  Is it really a Bad Idea for the two to carry on?
We explore this further with the powerful ballad You Matter to Me. This is the song I had already heard from Waitress, on Carrie Hope Fletcher's debut album When The Curtain Falls, dueting with Oliver Ormson. It was also performed at Fletcher's solo concert last year, and—as mentioned—I fell in love with it. It's slow, calm yet powerful: the theatre fell silent. From everything we've learnt about the characters, we want Jenna and Jim to be happy and successful together. Both sides set out their feelings and what they're looking for. It's nothing special: just 'simple and plain and not much to ask for'. It's a number with a tale as old as theatre itself: a good old-fashioned love song, and it's clear to see why it's been so popular across Theatreland and is one of the numbers thrusting Waitress to its current level of popularity. The powerful yet soft voices of Hunter and McPhee capture the moment and the intimacy. It's one of those 'magic moments' the West End is famed for.
It was a struggle not to laugh out loud at I Loved You Like a Table (it's, err, strong and stable don't you know), a contrasting love song between Dawn and her love interest Ogie (Jack McBrayer), one of several subplots along the way. UK readers (particularly fellow millennials) may be familiar with 'Strong and Stable' in a very different context; one perhaps better likened to wobbly jelly and weak tea. But anyway…! Following number Take It from an Old Man repeats many of the motifs from throughout the show. With a distinct country vibe, it's Joe's time to shine, with words of encouragement for Jenna, telling her to do what she believes in and what she thinks is right and to find her successes. He believes there's something in her—and she should believe too.
The showstopping moment of the whole show for me, though, was She Used to Be Mine; McPhee really comes into her own with this solo number. Her voice is soft, warm yet strong. It's a true feminist anthem—Jenna reflects on her life, and what's made her the woman she is today. She laments her late mother, who taught her to bake and who was clearly the source of her skills, and certainly for me this hit very close to home. Whilst not in tears I wasn't far off (only one song has ever brought me to a full cry, and obviously it's the death of Éponine in Les Mis). We're invested in Jenna by this point. We want her to be happy, we want her to leave Earl, and we want her to find the success that she deserves. McPhee is everything the role needs: commanding yet considered. Quite simply… it's perfect.
And then Everything Changes: Jenna has her baby, and her luck is finally in. Does she elope with Jim? Can she leave Earl? Or perhaps her guardian angel was looking out for her right from the start… it's time for Opening Up one final time.
---
Waitress is certainly different, but it well deserves its reputation and I thoroughly enjoyed myself. I'll certainly be returning to the Adelphi soon, once the show has had time to settle down and mature into its London run. I think it's the earliest I think I've ever seen a show after opening (well, technically it hasn't opened yet!), and I think I'm going to have to make this a new habit! Interestingly, we were sitting in front of Lord Andrew Lloyd Webber himself for the first half of the performance. It was also really pleasing to see a very well organised Stage Door experience; we met a few of the cast members, including Katharine McPhee, after the performance, and they were all happy to sign programmes and have a few selfies taken. Other Stage Doors should take note…!
Waitress played at the Adelphi Theatre from 5th March 2019 to 14th March 2020, its run cut short by the Covid-19 pandemic. The show ran for 2 hours and 15 minutes, with one twenty minute interval.